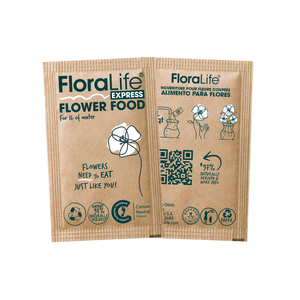 Features & Benefits
Packaging recyclable in the paper waste stream.
Carbon neutral.
Formula 97% naturally derived.
Improved moisture barrier to handle the humid environments of the cut flower supply chain.
Provides hydration and nutrition to flowers without the need to re-cut stems.
Eliminates steps, quick and easy; no cutting, less mess.
Promotes a balanced formula to lower pH and increase speed of hydration.
Is your best insurance policy that continued care happens at consumer level.
Less handling of flowers means floral designs remain intact adding value perception.
Reduces stress and mechanical damage (thanks to less handling), limiting the chance for pathogens to be introduced into the flower.
Appropriate for use with all flower and foliage types.
Proven to provide optimal longevity and quality in certain flower varieties.
Works best with flowers that are stored dry for less than two weeks.
Enhances consumer experience.
Usage
Remove foliage from the flower stem area which will be located below the solution level in the flower container.
Re-cutting is optional with FloraLife® Express technology. If you choose to re-cut then cut flower stems with a clean, sharp knife or cutting tool, cutting 1 inch (3cm) off the bottom of the stems.
Place flower stems in a clean container filled with FloraLife® Express Universal 300 mixed with the right amount of water. Add additional solution as needed.
Recycle empty packet in the paper waste stream.
Dosing
For use to mix with 1 Quart (1 liter) of water.
FloraLife® Express Universal 300 Recyclable Paper Packets - Improved Moisture Barrier
Regular price
$206.60
$0.00
Unit price
per
FloraLife® Express Universal 300 is a revolutionary floral product that allows fresh cut flowers to be fed and fully hydrated without having to re-cut stems before arranging in a vase or floral foam. This premium flower food is perfectly formulated with ingredients to keep flower bouquets and arrangements looking fresh, providing optimal longevity and quality. Appropriate for use with all flower types, FloraLife® Express Universal 300 encourages the flowers to properly start opening, showing vibrant colors. It promotes uptake for hydration and nutrition to help keep stems clear and free flowing for maximum enjoyment, resulting in enhanced consumer experience.

As part of the FloraLife 2025 sustainability plan, we are committed to improving the packaging of our products. Over the coming years, we aim to remove millions of pieces of plastic from the industry. Hence our decision to offer the industry a recyclable paper range of flower food. This specific version of recyclable paper packaging has improved moisture barrier technology, allowing to be stored in high humidity environments such as flower boxes and coolers for over a week.
Click here for more information.
Download Product Info
---
Share this Product
---