The FloraLife Shop
For all stages of the flower's journey, FloraLife has you covered. Choose a category to see our professional grade products, shipped direct to you.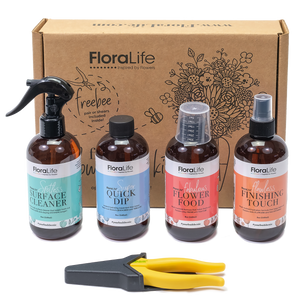 For The Flower Enthusiast
Keep your flowers beautiful at home with these quality products from FloraLife - trusted by the professionals, perfect for the flower enthusiast!
Shop Consumer Products
As Featured In...
LIVRIO's St. Patrick's Day issue.
In our most recent LivRio Magazine article contribution, we tell you more about the versatile fresh-cut Carnation flower. We give you tips on purchasing, shipping & storing, rehydrating and vase caring for the longest lasting Carnations.
Click below for information on the product featured in the article:
• FloraLife® Flower Food Packets
Read article