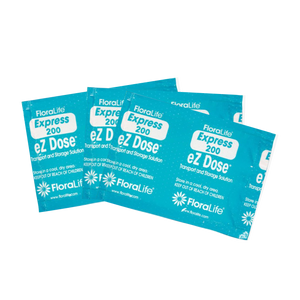 Features & Benefits
Eliminates the need to re-cut stem ends before placing in the solution.
Helps reduce length of harvest cycle time, allowing for more flexibility in buying and harvesting. For example, a stem harvested at 50 cm can be sold and used as a 50 cm stem because you do not lose the 3 to 5 cm when it is re-cut.
Helps reduce stress to the flower (due to less handling needs), resulting in a reduction of likelihood that pathogens be introduced during processing and handling.
Reduced stem lengths from the farms can lead to freight savings from reduced shipping weights.
Eliminates steps resulting in reduced labor in processing, handling waste, and equipment maintenance.
Frees up processing labor time to better service customers, leading to increased sales.
Provides the best insurance policy that shorter stems that miss the cutting phase will get hydrated properly even if they are not cut, resulting in consistent performance throughout the bunch.
Provides a balanced formula to lower the pH and increase the speed of flower hydration.
Fast-dissolving, traceable and easy to use holding and shipping treatment packets.
Can be used on all flower and foliage types and on flowers stored dry for less than two weeks.
Usage
Remove flower foliage that will be below the solution level in the container.
Cutting is optional with FloraLife® Express technology. If you choose to cut then re-cut flower stems with a clean, sharp cutting tool, cutting 1 inch (3cm) off the bottom of the stems.
Put one packet of Floralife® Express 200 eZ Dose® delivery system into a clean bucket with the appropriate amount of water. Do not open the packet.
Keep flowers treated in solution during transport or storage until it is time to prepare them for consumer sales. Change solution at least once a week.
After treatment with this product, use a Floralife® Flower Food to aid in extending flower vase life.
Dosing
Put one packet of Floralife® eZ Dose delivery system into a clean bucket with the appropriate amount of water. Do not open the packet. There are 3 different packet sizes available to treat 1.5, 2 or 3 quarts of water depending on your application.
FloraLife® Express 200 eZ Dose®
eZ Dose delivery system
Regular price
$68.42
$0.00
Unit price
per
FloraLife® Express Clear 200 is a unique and innovative storage and transport solution that allows fresh cut flowers to keep fully hydrated and fed without having to re-cut the stems. This special formulation allows you to ship, store and sell with only one cut at harvest. The unique formulation promotes immediate uptake for hydration and nutrition, inhibiting premature bud opening or bent neck. It is made in a microperforated packet so it can be directly placed or dropped into a clean flower bucket with water. The Floralife® Express 200 eZ Dose® delivery system is a fast-dissolving, traceable storage solution.
---
Share this Product
---