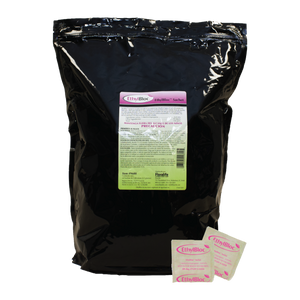 Features & Benefits
Protects flowers and plants against ethylene damage, therefore extending flower and plant life.
Protects against leaf yellowing, decreases premature flower aging, and reduces flower, bud and leaf drop comparable to the truck kit.
Ideal for use inside box during shipment.
Allows smaller sized shipments to be protected.
Adds the flexibility of scalable protection that can be tailored to any box size.
Can be used at any time such as immediately after harvest, just prior to shipment, upon shipment arrival or just prior to sale.
Easy to use, nontoxic and safe for workers.
Usage
The sachet is designed for treating plants or flowers being shipped in boxes.
Determine the number of sachets needed based on the volume of each shipping box. Follow label directions.
Dip each sachet in water for 1 - 2 seconds, immediately place the sachet in the box and close the box lid. For maximum effectiveness and safety, ensure the box is not re-opened until treatment is complete.
Minimum treatment time is four hours.
Dosing
Please refer to packaging label for complete use instructions and proper safety requirements.
EthylBloc™ Sachet
Anti-ethylene packet
Regular price
$451.44
$0.00
Unit price
per
EthylBloc™ sachets are designed to protect flowers and plants from ethylene-related damage and loss. The effectiveness of the sachets is comparable to the transport kit treatment. However the smaller sized sachet offers maximum application flexibility, allowing even the smallest box shipments to be protected. EthylBloc™ sachets can be used at any point in the supply chain where ethylene is present: immediately after harvest, just prior to shipment, upon shipment arrival or just prior to sale. This product is patented and is approved by the U.S. Environmental Protection Agency (EPA). The EthylBloc™ technology powder contained in the sachet is released when the sachet is dipped in water. Designed for use inside the box, the product's active ingredient is slowly dissolved and released to ensure that all the flowers or plants in the box are thoroughly protected. The sachet's EthylBloc™ technology leaves no trace or residue after treatment is completed, and is safe for workers. EthylBloc™ is a trademark of AgroFresh Inc. Not for use on food or food crops.
EPA Registration #71297-5-32258
Download Product Info
---
Share this Product
---